1
« on: November 25, 2012, 11:26:54 AM »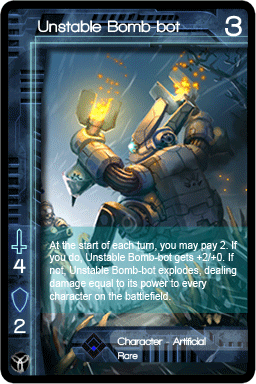 We've all seen him at some point, surely, but we've finally gotten a look at him in his fully animated glory. The art for this card, albeit silly, really gives off a sense of speed and panic, but what really makes Bomb-bot interesting is his highly strategic effect.
Firstly, we have some selective wording with the term "explodes". I imagine Snarley is bashing his head against the wall about right now. Lightmare, please make your effect descriptions consistent instead of immersive, yeah? The effect itself is in the spirit of Genesis, what with buffing this unstable robot each turn. However, the opponent now also has to be aware that Bomb-bot could go off at any second, wiping out his entire battlefield. Not fun.
Personally, I think this card is a must for anyone wanting a Genecentric deck. With Secluded Constructor, Unstable Bomb-bot can achieve ridiculous stats, making him a real pain in the neck.
Thoughts? Opinions? Cookies?